Pasture Raised Promise
At Bolyard's Meat & Provisions we offer pork, chicken, beef, and lamb that have been raised on the lush pastures of small Midwestern farms. Non-confinement, rotational grazing, and diets consisting of alfalfa, bluegrass, chicory, clover, and an occasional acorn and grub worm, allow our animals to thrive, without the use of hormones or antibiotics. Passion and patience fuel our farmers, and it shows in the exceptional quality of our meats. Our customers can shop with confidence, knowing that they are bringing home the very best and absolute freshest pasture raised meat Saint. Louis has to offer.
See you soon.
thanksgiving turkeys
We offer both house brined and unbrined Missouri Pasture Raised birds raised in California, Missouri.
We also offer CHICKEN STOCK and HOUSE MADE BUTTERMILK BISCUITS
These are 2 1/2 hour intimate hog butchering class where we will break down 1/2 a hog, discuss all things meat, and make a batch fresh sausage. Guests will take home two fresh cuts, 1lb of sausage and enjoy an array of Charcuterie, beer, and soft drinks during the class
October 27
Classes take place from 2-4:30pm on:
Payment of $125 is due at the time of reservation
CHECK OUT OUR HEAD BUTCHER/ SHOP MANAGER ALEX ON FOX 2 IN THE MORNING
MONDAY - SATURDAY
Served 11 AM until SOLD OUT
Check Out Our Sandwiches!
After selling THOUSANDS of our flakey buttermilk biscuits with our TUESDAY and THURSDAY night dinners, we're taking it to the next level! BREAKFAST. We're now serving up these golden gems smothered in house made sausage gravy OR as a biscuit sandwich!Watch our social media for the Saturday morning breakfast sandwich.
10 AM -NOON SATURDAYS ONLY
BISCUIT & GRAVEY $5 / BREAKFAST SANDWICH $6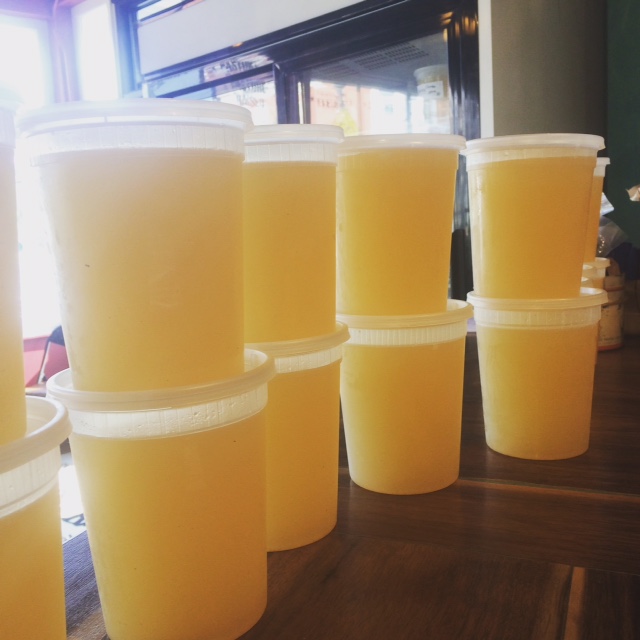 One of the biggest challenges of eating local, responsibly raised meats is finding the time to prepare them! But now we've got you covered, check out our prepared meals on Tuesdays and Thursdays complete with house made biscuits and sides!
BONE BROTH AND COOKING STOCKS AVAILABLE
PORK with APPLES & CHINESE 5 Spice
BEEF with LEMONGRASS & GINGER
CHICKEN with TURMERIC & SAGE
we also offer STOCK which is unseasoned and makes the perfect base for soups, braises, cooking with grains or to create your own seasoned sipping broth at home!
SIGN UP BELOW TO GET THE LATEST MEAT NEWS!